City of Groves History
Below are the facts about how Groves was founded and an excerpt from the Texas Handbook about Groves.

 

City of Groves, Texas


Current population is 15,804
Our city was named after a man, not a grove of Pecan trees.
Asa E. Groves
"A City amid the Groves"


Asa E. Groves, a pioneer Port Arthurian and the editor of the paper that is now the Port Arthur News, gave his name to the subdivision that would later be Groves, Texas.
Pictured below: Asa E. Groves (1867-1923) (left) and brother
John W. Groves (d.1921) (right)

Asa Groves death certificate


Asa E. Groves was born in Liberty, Wisconsin October 21, 1867. He was the son of Henry Sylvester Groves and his wife, Sara Elizabeth "Lizzie" Evans. Asa died March 27, 1923 in Nederland, Texas. He is buried in Magnolia Cemetery in Port Neches, Texas.

He is the man who is responsible for creating our city.
For more historical pictures, come by the library and see our historical photo wall.
 Many assume that the city's  name is derived from the fact that Asa Groves also arranged for Griffing Nursery to plant hundreds of pecan trees amid the acres he and his partners developed. These trees were planted by Wiley Choate, a foreman at Griffing Nursery. Real estate salesmen called it "The Groves" and declared that there was nothing like it in the Gulf Coast country. It was said that "man builds cities but nature decides location." 
One of the old tales in the area's early history recounts a group of rice farmers drilling for water on a site where Groves Elementary School stands today. To their great dismay they struck oil at about 800 feet, so they filled in the well and went elsewhere for water. It is possible that if the group had realized the value of their discovery Groves, instead of Beaumont, would have had the distinction enjoyed by Spindletop today.
Rice farming was the main occupation of the few settlers in the Groves area around the early 1900's. In 1919, Wiley Choate, then employed by Griffing Brothers Nursery, supervised the planting of 2,500 pecan trees that  made Groves one the most beautiful communities in this area.
In 1929, the first elementary school was opened. Today there are three elementary schools, and a middle school. Groves is a part of both the Port Neches and Port Arthur Independent School Districts. The Groves Public Library has been in operation since 1930.
The Post Office was established in 1927. The first store was built in the 6100 block of Jefferson in 1920. The Lions Club, Chamber of Commerce, Volunteer Fire Department, and other groups were organized in the early 1940's. Also, on September 28, 1940, the City ushered in the modern convenience of running water with its initial $180,000 water system. There was even a festival to celebrate access to treated water.
The power to annex adjacent territory without its consent was not granted to Groves by its citizens until the charter change election of November 7, 1961. By that time, however, nearly all the land which surrounds the original Groves city limits had been annexed by Port Arthur or Port Neches. Thus Groves' boundaries and physical size are fixed.
The planting of the famous pecan trees has made Groves one the most beautiful communities in the area.
One of the first houses in Groves as now the
home of the Groves Chamber of Commerce
Main and 39th Streets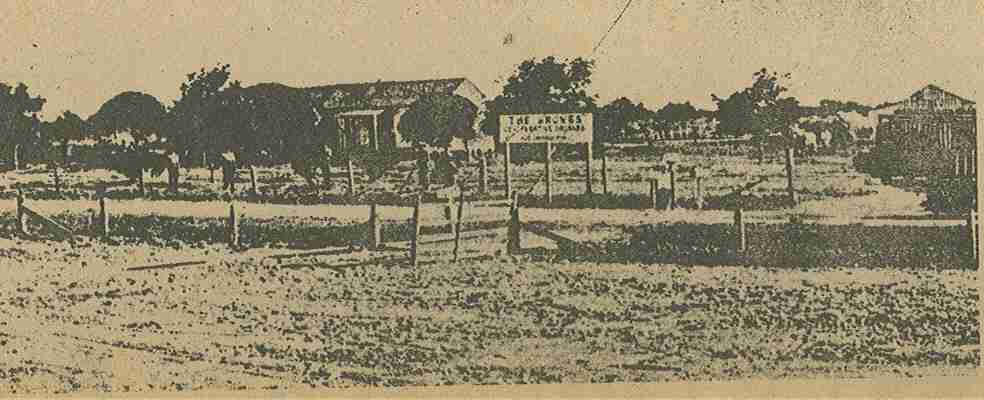 Planting pecan trees
More on Griffing Nursery
Maurine Miller Griffing

married into the family that had launched Griffing Nurseries near Port Arthur in the early 20th century, using fertile earth from Orange County and trees that took root in it.
But the founder, Walter C. Griffing, pulled up his own roots and moved the family to Rosedale, just north of Beaumont, in the 1920s. He founded another nursery in that rural area, away from the industry and hard living of oil boom towns.
His son, Ralph, in 1931 married young Maurine Miller, then about 20. Born in Beaumont, Jan. 28, 1911, Miller at 15 was a concert pianist and later attended
South Park Junior College

and

Chenier Business School

.
The Griffings embarked on a life together growing plants of all kinds out in the buzzing quiet of farmland when people still were connected to the land.
She lived in a two-story home on that nursery for the next 73 years, owning and operating the nursery with her husband until his death in 1968.
When her age finally caught up to her about four years ago, Mrs. Griffing moved to Palestine to live with a close friend until Aug. 30, when she died, at 103 years of age.
Ellen Walker Rienstra

, who grew up almost right next to Griffing Nurseries, remembered Maurine Griffing and her impact on her childhood in comments she made at

Rosedale Baptist Church

at her 100th birthday.
"Mrs. Griffing gave us a continuity for our lifetimes. She was a loving spirit that will always be with us and is the gift that keeps on giving to us all," Rienstra said.
"Griffing Nurseries was a vast, wooded world, filled with great trees and unfamiliar vegetation, where single-track roads beckoned a kid around the next curve and sometimes disappeared into shadowy glades and mossy nooks and crannies, a long way from our everyday world. The nursery gave our lives - and imaginations - a new dimension."
Rienstra also spoke of Maurine's husband, Ralph. He was a man of patience and a scholar of the earth.
"Quiet and contemplative, he possessed the soul of a scholar and naturalist. It was he who took the time to teach us tomboy kids about the huge variety of plants and animals in the nursery - and in our region of Southeast Texas. We learned so much from him - not least a love for all of nature and a lifelong interest in its wonders."
Mrs. Griffing "lived an extraordinary, exemplary life," Rienstra said.
"She was a lovely spirit and an example to us all. I think I mentioned that she never took any medications until the last five years of her life and I remember that once she was offended by having to take an antibiotic her doctor had prescribed for her."
One of her greatest joys was to serve her Voth-Rosedale community, Rienstra said.
Below is what Griffing Nursery is said to have looked like.

-------------------------------------------------------------------------------------------------------
Handbook of Texas:

GROVES, TEXAS. Groves is on State highways 73, 87, and 347, north of Port Arthur and eleven miles southeast of Beaumont in eastern Jefferson County. It was laid out by the Griffing brothers of Port Arthur in 1916, on part of a tract conveyed by John Warne Gates to the Griffings five years earlier. The subdivision, originally called Pecan Grove, was referred to as simply The Groves when it was taken over before 1921 by the Port Arthur Land and Development Company. Groves secured a post office in 1929 and eventually became a heavily industrialized town on the Kansas City Southern Railway near the Gulf Intracoastal Waterway. The Atlantic refining plant began operations in Groves in 1936. During the 1980s the area's industries included shipbuilding, refineries, and petrochemical plants. The population of Groves grew from an estimated 1,300 around 1950 to 17,304 by 1960. After failed efforts in 1950 and 1951, Groves incorporated in 1952 by a 1,079 to 262 vote. During the mid-1980s the Groves population remained at just over 17,000. Though at that time Groves had some 174 businesses, the city suffered severe economic setbacks in the wake of falling oil prices in the early 1980s, as did most of industrialized southeast Texas. In 1990 the city's population was reported as 16,513. The population dropped to 15,733 in 2000.
Robert Wooster